Elyssa Thompson, M.S.W., LCSW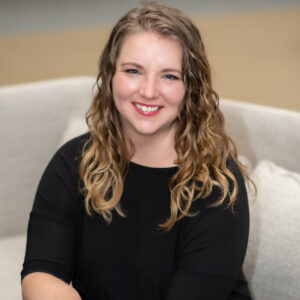 Professional Licensure:
Licensed Clinical Social Worker
Specializations:
• Depression & Mood Disorders
• Anxiety Disorders
• Self-Esteem & Self-Image
• Children & Adolescents
• Women's Issues
• Relationship Problems
My Approach to Therapy:
Therapy needs to provide a safe, respectful, supportive, and confidential environment that encourages you to gain an understanding of yourself and promote positive changes.  I will listen with compassion and empathy, offer suggestions, and challenge you to make incremental changes that hopefully will result in important shifts in your life. Additionally, I will encourage and remind you to provide me with feedback to ensure therapy is working for you.
Working with Children and Adolescents:
I have experience with a wide variety of childhood and adolescent problems, such as depression, anxiety disorders, trauma, self-injury, eating disorders, and low self-esteem. In my work with children and adolescents, I strive to help my child and adolescent clients develop greater self-confidence, more effective coping skills, and healthier ways to express their needs and concerns. While I often work individually with children and adolescents, I believe in the importance of integrating parents and family into the process.  My focus with parents is on helping you find more effective ways to help your child or teen.  I also will work with you to address any family concerns and issues that may be impacting your child or adolescent.
Working with Adults:
I have experience with a variety of adult concerns and issues, including stress management, anxiety, and depression. It is my belief that there is no one intervention or treatment approach that fits for everyone. Therefore, I will collaborate with you on identifying the approach and treatment strategies that work best for you.  I draw on a number therapeutic approaches including Psychodynamic, Cognitive Behavioral, and Dialectical Behavior Therapy. My focus is to help you better understand the choices you are making in your life and to assist you in making positive changes in your life.
Professional Education
Master of Social Work, Stephen F. Austin State University, Texas (2013)
Bachelor of Social Work, Stephen F. Austin State University, Texas (2012)
Contact
To reach Elyssa Thompson, call 630-586-0900 ext. 27.