Stephanie Vajram Gill nee Maddela, M.S.W., LCSW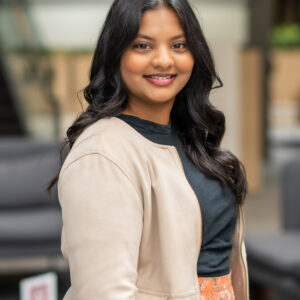 Professional Licensure:
Licensed Clinical Social Worker
Specializations:
• Problems of Childhood & Adolescence
• Issues of Identity & Diversity
• Depression & Mood Disorders
• Anxiety Disorders
• Post-Traumatic Stress Disorder & Trauma
• Women's Issues
• Cognitive Behavioral Therapy
My Approach to Therapy
I believe that therapy should provide a safe space for you to share your thoughts, worries, and concerns without judgement. My work is based on building a strong working relationship with all my clients. I want you to experience therapy as a place where you feel safe to share your concerns.  I strive to be a calm, empathetic listener who is totally present, and non-judgmental.  My goal is for you to be able to share your thoughts and feelings, identify areas where you are struggling and collaborate with you to on finding ways to help you move toward better functioning and greater emotional freedom. I primarily utilize a Cognitive Behavioral Therapy model (CBT) but enjoy working together with my clients to find what methods they find most helpful for their specific needs.
Children & Adolescents
I have an extensive background working with children and adolescents having worked on the Pediatric ICU unit of one of Chicago's public health hospitals, as well as at a Head Start program on Chicago's West Side with young children. I work to create a non-threatening, safe environment for children to express themselves fully and discover the roots of maladaptive behaviors. I utilize age-appropriate elements of CBT and play therapy to help children find healthier and more positive methods of problem solving.  I work with a wide range of problems of childhood including but not limited to anxiety, depression, behavior problems, and trauma. In my work with your child, I will collaborate with you to insure that your concerns and perspectives are given full consideration.
In my work with teens, I strive to assist adolescents in find healthy and effective ways to cope with the many challenges faced by today's teens.  I recognize that adolescence in an increasingly complicated period of life and that many teenagers struggle with feelings of anxiety, depression, and loneliness.  I also work with adolescents struggling with issues of identity and diversity.  While I want therapy to be a safe and confidential place for my teenage clients, I recognize that parents need to be involved in therapy and that your concerns, values, and perspectives need to be respected.
Adults
I focus on creating a warm and inviting space for my clients to discuss difficulties they may be experiencing. I believe in gaining a full understanding of your concerns but will also focus with you on identifying solutions to your current concerns.  I will work with you to identify the underlying causes of your current struggles and develop ways to overcome these difficulties. For those interested in more in-depth work I will work with you to achieve long-term growth and a greater understanding of yourself. I work with adults who are experiencing symptoms of Post-Traumatic Stress Disorder, Anxiety Disorders, Depressive Disorders, Work Stress, and Trauma. I also have experience regarding issues related to incarceration and involvement with the Justice and Correctional System. My aim is to help you gain greater clarity regarding your challenges, gain insight on how to move forward, and put these understandings and insights into action so that you can achieve your goals and overcome the difficulties that are bringing you to therapy.
Professional Education
Master of Social Work- Jane Addams College of Social Work, University of Illinois at Chicago (2017)
Bachelor of Social Work- Loyola University Chicago (2016)
Contact
To contact Stephanie Vajram Gill nee Maddela, call 630-586-0900 ext. 15.