Samantha Eiler, M.A., LPC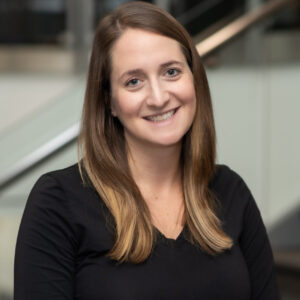 Professional Licensure:
Licensed Professional Counselor
Specializations:
• Depression & Mood Disorders
• Anxiety Disorders
• Infertility/Women's Issues
• Eating Disorders
• Problems of Childhood & Adolescence
• Grief/Loss
My Approach to Therapy
I emphasize a collaborative approach to therapy. My goal is to work with you to identify goals and ways we can work to help you achieve your goals.  It is my belief that therapy needs to "fit" for you, to be helpful.  I draw heavily on Person Centered Therapy and Cognitive Behavioral Therapy in my work.  I will primarily utilize Cognitive Behavioral Therapy to address problems involving anxiety and depression.  However, I also firmly believe that a Person Centered approach, which highlights the importance of understanding and respecting your feelings and perspectives, is a key part of treatment.  My stance is non-judgmental. I strive to work with all my clients to help each of you achieve your goals and develop more effective ways to cope with the stresses and challenges that are often part of our lives.
Working with Children and Adolescents
In my work with children I utilize play therapy techniques as a means of helping children express their thoughts and feelings. For many children talk therapy is difficult, as children, and even younger adolescents, may have difficulty identifying and verbalizing their feelings and concerns. Therefore, I will use play therapy to help children express their concerns. I also focus with children and adolescents on strengthening their coping skills and develop a more positive self-image.  I seek to involve parents in the treatment process to help you identify ways that you can better assist your child or adolescent.
Working with Adults
I am experienced in working with a variety of adult issues including grief and loss, depression, anger management, anxiety, relational issues, woman issues including infertility, and eating disorders. My goal is to help you feel more confident in expressing your feelings and thoughts, assist you in coping with stress in healthier ways, and work with you to identify solutions to the problems you are facing.  I have a particular interest in working with women's issues, including the challenges posed by infertility and the complexities of balancing work and family life.
Professional Education
Master of Arts in Clinical Mental Health Counseling, Governors State University
Bachelor of Science in Health Sciences and Psychology, Illinois State University