Azmin Pedraza, M.S.W., LSW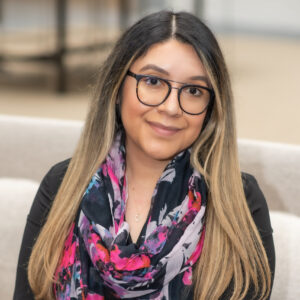 Professional Licensure:
Licensed Social Worker
Specializations:
• Depression & Mood Disorders (all ages)
• Anxiety Disorders (all ages)
• Grief & Loss
• Substance Abuse (teens & adults)
• Problems of Childhood & Adolescence
• Cultural & Ethnic Diversity
• Identity Issues of Adolescence
• Life Transitions in Teens & Young Adults
My Approach to Therapy
My philosophy of therapy is based on the premise that your concerns and goals should guide my efforts to assist you. It is important for me to understand and respect your perspective and values.  I recognize that we often come from different walks of life.  Therefore, I always hold myself accountable to providing a non-judgmental space where you can feel safe and accepted, and where your values and lifestyle are respected.  My approach would be labeled as client-centered because I believe you, as my client, are the true expert when it comes to your life. I realize that at times of stress you may lose sight of your strengths. Therefore, it is important for therapy to help you identify and utilize your strengths to overcome the obstacles and challenges you face. Additionally, I draw on strategies and interventions from Cognitive Behavior Therapy (CBT), Solutions-Focused Therapy, and Dialectical Behavioral Therapy (DBT) to help my clients reach their goals.
Working with Children, Teens, & Young Adults
I have experience working with a broad range of problems experienced by children and adolescents including: behavioral concerns, identity concerns, depression, anxiety, substance use (with teens), stress, and grief and loss. In my work with children and teens I will involve parents in treatment and focus with you on how you can best assist your child.
I have a specific interest in working with teens. I am keenly aware that being an adolescent can be difficult and confusing, and I recognize that the past few years have been particularly challenging for this age group. I believe that helping teens and young adults establish positive ways to express and process their feelings can help them gain coping skills that can facilitate their transition to adulthood. In my work, with teens I focus on establishing a positive and supportive therapeutic relationship. I will draw on motivational interviewing techniques to help adolescents identify and process their thoughts and feelings. I will also utilize Cognitive Behavioral and other strategies to help teens strengthen their coping skills. When working with adolescents I strive to collaborate with parents and caretakers to help you identify how you can best assist and support your child.
Working with Adults
In my work with adults my focus is on creating a safe space where you can work to identify and let go of the bad habits, negative thinking, and painful emotions that you believe are holding you back from living a happy and fulfilling life. My approach is collaborative. I will work with you to identify ways you can better overcome and cope with the obstacles and challenges in your life. I have experience working with an array of adult concerns including: family issues, anxiety, stress management, depression, trauma, and substance abuse.
Professional Education
Master of Social Work, Loyola University Chicago
Contact
To reach Azmin Pedraza, please call 630-586-0900 ext. 24.