Madeline Malabanan, M.A., LCPC, NCC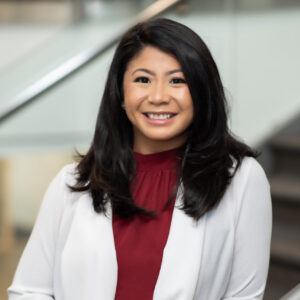 Professional Licensure:
Licensed Clinical Professional Counselor
National Certified Counselor
Specializations:
• Depression & Mood Disorders
• Problems of Adolescents & Adults
• Behavioral Disorders
• Substance Abuse
• Anxiety Disorders
• Anger Management
• Grief & Loss
• Trauma Focused Treatment
My Approach to Therapy
As Brené Brown states, "Owning our past and loving ourselves through that process is the bravest thing that we will ever do." Often times we look back on our past with disdain and dwell on "what ifs" and fall into second guessing ourselves. In my work with you we will focus on how you can accept and make peace with your past, while also learning from past situations. I believe that everyone has a story to tell and  can learn to embrace their past as a stepping stone for a brighter tomorrow. I have a great commitment to providing holistic and evidence based therapy that can help you improve the quality of your life. My goal is to create an open and safe environment  where you can: raise your concerns, fears and needs; become more accepting of yourself; clarify your goals; and determine how you can better work to achieve your goals and resolve current challenges.
Children and Adolescents
Children, and even adolescents, often have trouble putting their concerns into words. When I work with children, I often rely on play therapy to help children express their concerns. With adolescents, I focus on helping teens better understand and address their fears, desires, and goals. I focus with children and adolescents on developing a more positive self-image, healthy coping skills, and a better understand of how they can take more responsibility for their actions and choices. Teens are often greatly affected by peers, and particularly by social media. I address these issues in my work with adolescents and work to help them understand these influences and feel less constrained by peer pressures. Finally, I strive to involve parents and other loved ones into therapy. I know it is important that I understand your concerns, as parents, and respect you family's goals and values.
Adults
Most of my work with adults has focused on: substance use, negative self-image and depression, trauma, and anxiety. My approach is collaborative. I will work with you to clarify your concerns and your goals, and then develop a plan on how we can best work to help you achieve your goals. I see my work with you as a partnership in which we are working together to help you resolve problems, strengthen your ability to cope with the stresses and challenges that are often part of life, and achieve a greater sense of well-being. I draw on a number of therapeutic approaches in my work, but tend to draw most heavily on Cognitive Behavioral Therapy and a Person-Centered approach.
Professional Education
Masters of Arts in Clinical Psychology (Counseling Practice), Roosevelt University
Bachelor of Science in Psychology, Loyola University Chicago
Contact
To contact Madeline Malabanan, call 630-586-0900 ext. 37.