Wendy Romano, M.S.W., LCSW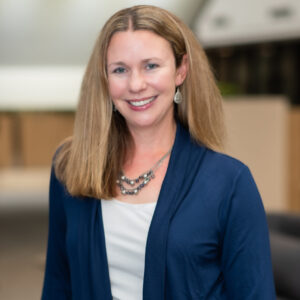 Professional Licensure:
Licensed Clinical Social Worker
Specializations:
• Depression & Mood Disorders (all ages)
• Anxiety Disorders (all ages)
• Problems of Childhood & Adolescence
• Substance Abuse (all ages)
My Approach to Therapy
I maintain a strong belief that therapy can be beneficial, whether you are struggling with the stress of everyday life or more significant psychological symptoms.  My passion lies in building an honest and trusting therapeutic relationship that will assist you in identifying and resolving the issues in your life that are causing you stress and distress.  I routinely use a Cognitive-Behavioral approach to assist my clients.  However, I seek to identify and respond to the individual needs and style of all my clients.  Therefore, I may draw on other therapeutic models to assist you.
Developing Relationships with Children and Adolescents
I strive to actively engage children and teenagers in therapy, help them identify and verbalize their feelings and concerns, and find healthier and more effective ways to solve their problems.  I will work individually with children and teenagers in order to draw them out and find ways to motivate them to work to solve their problems.  I also work closely with parents to understand their concerns and find more effective ways to respond to and assist their children and teens.  It is my experience that adolescents are increasingly faced with complex and adult issues at a time when they are not yet ready to fully handle these challenges.  Therefore, I work with adolescents on finding more positive ways to cope with the challenges they face while also developing a greater sense of competence and self-worth.  Finally, I respect the values and traditions of all the families I work with.  My goal is to help you and your child solve problems and manage stresses, in ways that fit for you and your family.
Developing Relationships with Adults
In working with adults, my goal is to help you find ways to live a happier and more rewarding life.  To this end, I will work with you on learning and using more effective ways to cope with and manage the stresses in your life.  I often use a Cognitive Behavioral approach to help you identify new ways that you can think about your situation and solve problems.  My approach to therapy is collaborative.  I strive to work with all my clients to respond to their needs and concerns to help them achieve their goals.
Professional Education
Master of Social Work University of Illinois Urbana-Champaign
Contact
To reach Wendy Romano, please call 630-586-0900  ext. 21.